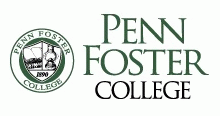 Penn Foster College offers students a convenient, comprehensive, and rewarding pathway to a fulfilling career as a veterinary technician through its online associate degree program. As 1 out of 7 training programs in the nation to have earned full American Veterinary Medical Association (AVMA) accreditation, Penn Foster College's veterinary technician program stands apart from the competition, providing students the opportunity to earn the Associate of Science degree, receive thorough preparation for the VTNE licensing exam, and achieve success in a rapidly growing career field.

Results That Speak for Themselves
Roughly 95% of all graduates of Penn Foster College's program pass the Veterinary Technician National Exam (VTNE), typically achieving scores that are at least 20% higher than nationwide averages. This record of success is attributable to the comprehensive nature of the instruction received by students, including lectures delivered and materials produced by numerous experts in the field of veterinary technology.

Overview of Coursework and Hands-On Clinical Training
Students enrolled in the four-semester degree program will study subjects including animal physiology, anatomy, pharmacology, imaging techniques, surgical procedures and animal immunology. In addition, students will receive instruction in veterinary practice management topics such as business writing, records management, computer technology and medical mathematics. In order to provide degree candidates with hands-on experience in the field, all students are required to complete two on-site practicums of 225 hours each in a clinical setting.

Learn at Your Own Pace, On Your Own Schedule
The distance learning program offered by Penn Foster College begins almost immediately upon enrollment and registration. Course materials are easily accessed via the college's website, and additional books and study guides are shipped directly to the student. Lessons are completed online at the student's own direction, and webinars and discussion forums round out the learning process. Instructional support is available by phone and email, as is direct contact with course instructors. Once each lesson area is completed, an examination is administered. Once a passing score has been achieved, the next lesson in the sequence can be accessed. At the conclusion of each semester, a proctored final exam is given to all students. In order to receive the Associate of Science Degree, a student must receive passing grades in all courses, and earn a Quality Point Average (QPA) of 2.0 or greater.

Tuition & Fees
Penn Foster College offers a number of options for the payment of tuition and fees, including financing assistance. The full cost of the first of four required semesters is $1,535.00, which includes registration and admissions fees. The price also includes all course materials, books, and related items. However, a $225.00 discount is offered for students able to pay the full amount upon enrollment. Students who make an initial down payment followed by monthly automatic credit card payments or bank withdrawals will pay $1,410.00 for the semester. All others will pay the full tuition and fee amount.