Veterinary technicians are similar to registered nurses who work in hospitals. These professionals in veterinary medicine perform the same type of clinical duties such as taking blood or tissue samples, administering medicine through injections, conducting lab tests and assisting Veterinarians (DVMs) with surgical procedures and other animal medical related techniques.

Salary Outlook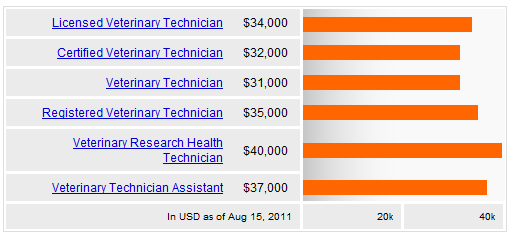 The average salary is about $34,000 a year, which is quite good for an entry level position. Vet techs that become specialists (ie, veterinary dental technicians) can expect a significantly higher pay grade and enhanced employment opportunities.
Listed below are popular specializations and average salaries (note: salaries vary depending on geographical location and experience):

Schools & Training Programs
Becoming a veterinary technician requires a great deal of "dogged" determination, completion of training as well as love of animals that allow personal to become quite comfortable in this choice for career.

If the idea of having to go back to school worries you, also consider the option of becoming a veterinary assistant, which does NOT have any formal educational requirements—all training is done on-the-job.

Love of Animals
You need to have an extreme amount of fondness for animals as well as a high tolerance level for being around them more than you are around human beings. Your day may begin with a sick Labrador, followed by an injured Tabby with a disabled Iguana waiting in the wings. You have to deal with that Mastiff suffered from impacted tooth and then you may need to help a chimpanzee with an injured foot. If you don't feel comfortable being around sick animals that may be discharging fluids from every orifice of their body, don't read on.

If You Think Dealing with Humans is Tough
Many nurses contacted through a survey revealed that one of the more difficult challenges that await them during their daily routines is withdrawing blood or taking tissue samples from injured or sick human beings. Multiply the difficulty factor by whatever when it comes to a RVT having to use in a hypodermic needle on a sickly, shivering Chihuahua? it is a huge challenge for veterinary technicians to deal with frightened animals with claws.

Maintain the Record
Veterinary technicians are called upon to do quite a bit of what is considered "clerical" work maintaining charts, recording an animal medical history and filling out daily activity records and other types of information tracking forms. An ability to communicate orally as well as in the written form are necessary skills to become a successful veterinary technician.

Can you Handle Life and Death Situations?
Many veterinary technicians come across something in their daily activity that a lot of registered nurses working with human populations do not have to face. Although both professionals will see their fair share of death on a daily basis, veterinary technicians also have to face the stark reality of euthanasia and must be trained to specifically participate in this unwanted, but necessary part of practicing veterinary medicine. Additionally, veterinary technicians must be strong willed, and possessing the ability to make unresponsive and uncooperative animals to take medicine or administer other medical procedures that these animals try desperately to run from to avoid.

Research is Not for Sissies
Many qualified veterinary technicians working in medical research which employs animals as test subjects. It's the job of the veterinary technician to administer tests and/or treatments in order to record an animal's reaction. Often a great deal of this research and treatment causes discomfort for test animals that may affect any individual who never wishes to inflict any kind on upon any living creature.

If You've Gotten This Far…
If none of the unpleasant situations compel you to seek a different career choice, see our follow-up article: What steps do I need to take to become a veterinary technician?